The Climate Resilient Agribusiness for Tomorrow (CRAFT) project is working with smallholder farmers in Uganda, through agri-SMEs and cooperatives to address climate related challenges through adoption of climate-smart agriculture (CSA) practices and technologies. Through linkages with a pool of climate-smart service providers, Agri-SMEs are helping farmers to de-risk climate related shocks in the value chains of potato, soybean, sunflower and sesame. 
Services such as soil testing, digitalisation, crop insurance, weather information and post-harvest handling equipment are being scaled up to ensure sustainable and resilient food production. Here is how CRAFT is working with smallholder farmers to upscale climate-smart practices.  
Soil testing  
Soil testing is key because it optimises crop production, protects the environment from contamination and leaching from excess fertilisers, and conserves money and energy since the required amount of fertiliser is applied.  
In addition, extension workers trained under the CRAFT arrangement also offer trainings to farmers on the importance of soil testing services and interpreting of results from soil samples collected from soil testing service providers. They also connect farmers to different input dealers for the recommended fertilisers and inputs from the soil samples. 
For instance, TRAFORD, – an agri-SME working with CRAFT in northern Uganda, links Paat Soil Clinic to offer soil testing services to its smallholder farmers in the soybean value chain in Amuru District.  
'It was hard for us to convince farmers to pay for soil testing services until we subsidised the price with support from CRAFT. Now, we have more than 2000 farmers who have tested and analysed their soils for PH and soil texture. Although it costs them a little money, the benefits are unmatched with productivity and more farmers are registering to test their soils,' John Tusasirwe, CEO TRAFORD – CRAFT's partner in North Central region says.
Amaro Rot Rose – a small holder farmer in Otuke – Amuru District is one of the 2000 farmers under TRAFORD who tested soil from her 1-acre soybean garden 2022.  
'I have learned how to properly apply fertiliser and pesticides and I will always do a soil test before planting any other crop in future,' Rose notes.  
Soil testing has helped farmers make informed decisions on soil management practices and increases crop productivity in their value chains. 
Weather Information 
In Uganda, agriculture employs 80% of the labour force and is primarily rain-fed, making it vulnerable to drought and severe climatic changes yet, farmers receive little or no relevant information to help them cope with drought and other climatic stresses. 
In Mubende District, Okeba Uganda Limited – one of CRAFT's partners works with Uganda National Meteorological Authority (UNMA) to extend weather information to smallholder farmers. This access to accurate weather forecasting helps them to prepare and plan their daily and seasonal farming activities such as planting, weeding, and harvesting.  
'Every month, we hold one talk show with a UNMA Officer who provides weather forecast updates. He is hosted with our extension officers so that when he is using scientific terms, which may not be easily understood by our farmers, the extension worker simplifies and translates the information for them,' Alinganyira Nezephor, CRAFT's Project Coordinator at Okeba notes.  
 He further adds that 'Okeba created a WhatsApp platform where the UNMA officer shares   weather updates with Okeba team and extension workers. This information is used by extension workers to sensitize and inform farmers.' 
Okeba also organises community CSA training where the UNMA focal person is facilitated to sensitise farmers. 
'In March 2022, I wanted to cultivate soybeans on a bigger piece of land, I was not sure that the rain would be enough and when I contacted UNMA officer on weather forecasting, they warned us that we would not get rain by early June.  I didn't plant and indeed this is what we experienced. This saved me from making losses,' he adds. 
Digitalisation 
Digital technology makes both farmers and agribusinesses more sustainable and efficient in delivering climate-smart services. 
 E-prod – a digital technology firm is working with CRAFT partners (Alito Joint Farmers' Cooperative, Sebei Farmers' Cooperative, AgriNet Uganda, and Soya Solutions Eastern Africa Limited (SSEAL)) to digitalise their climate-smart agriculture services such as access to agriculture inputs, extension services, weather information and credit services. 
 The E-Prod system provides a platform for registering farmer profiles (names, age, location, telephone contact, quantity procured) and tracking different CSA services received by the farmers such as input loans such as fertilisers, seeds, agro-chemicals, and tarpaulins.  
 'When we go to the field to buy back from the farmers, we label the specific bag like Bag 20 and this is captured in the system, and after bulking, we carry out germination tests, and attach respective results to the procured bags,' Isaac notes. 
 Isaac notes that without physically meeting the farmers, the cooperative, using the system tracks and sorts the seeds that don't meet the required germination standards. The farmers are then contacted using a system generated digital SMS with scores on germination percentages of their respective seeds.  
 The system also generates a digital data base for farmers with locations whose produce fail to meet the required standard and are followed up by extension workers.  
 This, according to Isaac, has helped them provide digital services and has increased on accurate strategic business decisions like processing and tracking of loan payments. It has also led to improved quality of produce from farmers and reduced operational costs. 
 Additionally, the system provides daily and seasonal weather forecasts which is helping both the farmers and cooperative to make appropriate farming decisions. 
 He further adds that 'when we conduct trainings, the system highlights different components where farmers have been well trained and red-marks components (CSA) and locations that are lagging behind, and this directs us on where to focus during the next training.'  
Post-Harvest Handling Equipment 
CRAFT works with Agri-SMEs to make sure that farmers access equipment to reduce post-harvest losses and produce quality produce, that attract a competitive market. 
RECO Industries – CRAFT's partner working soybean value chain works provides hermetic silos to farmers on a cost sharing basis. About 300 silos have been distributed to farmers in the districts of Kasese, Kamwenge and Rubirizi in Southwestern Uganda. 
'I am happy that with silos, the produce can last long in the stores, and it has reduced expenses of buying many jute bags to store grain. Even the cost was affordable as we paid UGX125,000 for each silo instead of UGX250,000. We saved a lot of money and when it comes to selling, we shall fetch good prices from the grains we stored because of the high price we anticipate during off season,' Benjamin Turyahebwa, a farmer from Kamwenge district under RECO says.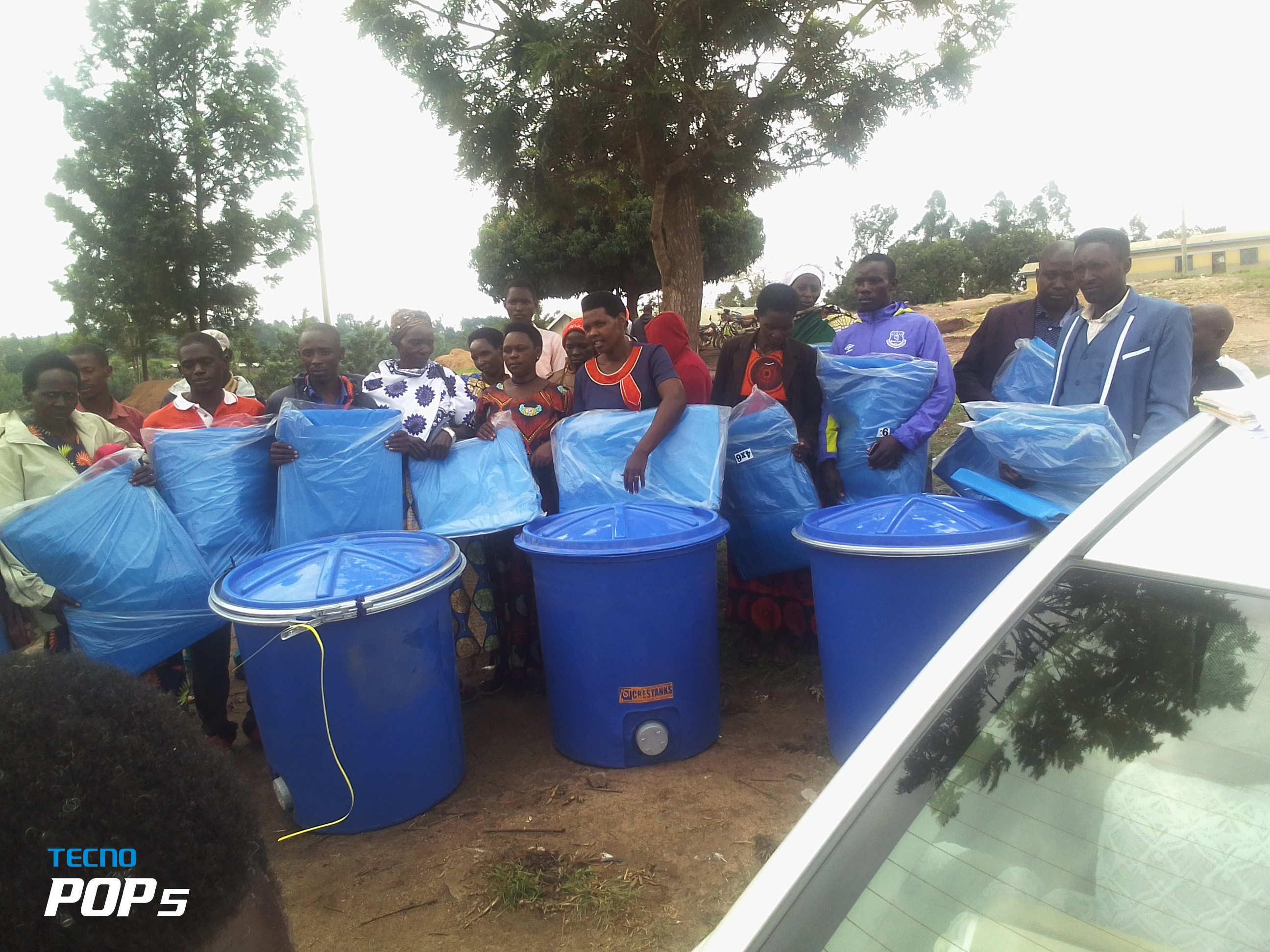 Askar General Merchandise Limited also works with Okeba Uganda and Byeffe Foods to provide post-harvest equipment such as tarpaulins, solar collapsible dryers to ensure that farmers produce quality grains and reduce losses during harvesting and drying process. 
Crop Insurance 
CRAFT facilitates Agri-SMEs' linkages with insurance service providers such as the Agri-Insurance Consortium – to provide crop insurance in different value chains such as sunflower and soybean. 
For instance, in Eastern Uganda, CRAFT partners with two female-led Agri-SMEs, notably, Byeffe Foods and Popular Knowledge Initiative Farmer to Farmer Cooperative (P'KWI) to scale crop insurance to smallholder farmers to mitigate climate related risks and improve their livelihoods. 
'At first, it was very difficult for our farmers to believe that they will be compensated, and they accepted to take up insurance after sensitisation," Fatuma Namutosi – Managing Director of Byeffe Foods says. 
Several of these climate-smart services are replicated by 18 agri-SMEs that CRAFT works with in Uganda.