Okeba, based in Mubende district, focuses on the buying and selling of soybeans, maize, and beans.  The company collects grains and cereals from communities and farmers' cooperatives and then adds value by cleaning and sorting them for sale. Okeba now works with over 12,000 smallholder farmers – providing climate-smart agriculture (CSA) services, input distribution, aggregation, facilitating pathways for access to finance, weather information, and market for farmers in the soybean value chain, supported by the CRAFT partnership.
Simon appreciated Okeba as a business partner for smallholder farmers and its partnerships geared towards building the resilience at farmer and agribusiness level, adding that "Access to finance combined with access to information, which is increasingly digital makes our programmes and partners such as government more powerful".
Currently, Okeba collaborates with different partners such as Makerere University Research Institute – the breeders of improved drought tolerant and early maturing soybean varieties, Uganda National Meteorological Authority (UNMA), for sharing and interpreting weather forecasts (seasonal and monthly) for the farmers, MasterCard Foundation, financial institutions, smallholder farmers, off-takers as well as the local government extension system.
Together with the CRAFT team, Simon interacted with Okeba leadership, local government representatives (district production officers, UNMA representative), and farmers. They toured Okeba's premises and different climate-smart agricultural technologies used in aggregation centers and by farmers were demonstrated.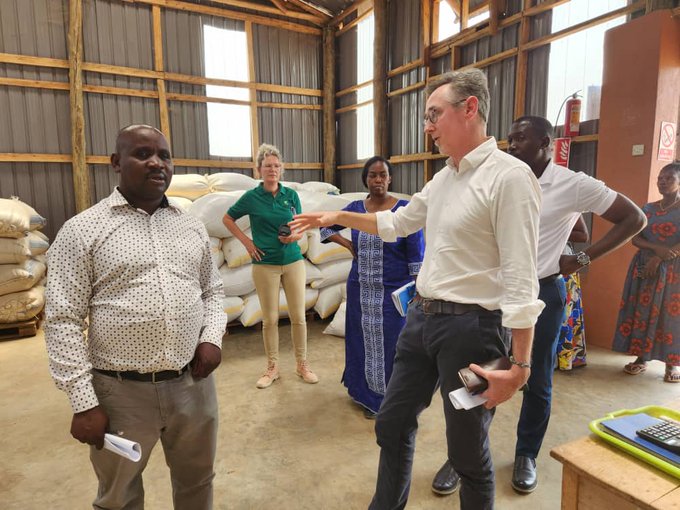 Simon urged Okeba's leadership to tap into digitalisation opportunities for easy, increased outreach and information sharing. In addition to using radios and gatherings for mobilisation and sharing of knowledge, he urged the agribusiness and farmers to make use of the available digital innovative infrastructures that will spur opportunities such as negotiating better access to financial services for the farmers, especially for the youth and women.  
"We need to get to a greater scale, using digital tools that are emerging across Africa and the world, where you can exchange information in the right format, affordably to other groups, so we encourage some further thinking on how we better harness digitalisation and target young people," Simon explains.
He also advised that agribusinesses need to diversify their business operations and venture into value addition, with a focus on the local market, which will cushion them against climate-related risks. "There needs to be a diversification and fortification element. This will help absorb shocks from climate change and its impact on agribusiness operations," he explains.
Through a partnership with CRAFT, Okeba increased its turnover by 150% as the engagement with farmers has grown from 3000 to 12,000 farmers in the districts of Mubende, Kyegegwa, Kakumiro, Kibale, Kasanda, Kamwenge, and Kyenjojo.
Read more about the partnership here.
By Sarah Mazirwe